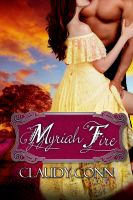 Title: Myriah Fire
Author: Claudy Conn
word count:
61955
Genre: historical romance
My rating: 5/5
Publisher: ~~~
Published: smashwords
summary:
It started with a stolen kiss …
Fiery Myriah Whitney is wild of nature, contrary, and independent. But when her father catches her kissing the handsome Sir Roland (how else is she to determine if he is the one who will make her feel thunder and lightning, hear bells and music?), he declares that her days of headstrong independence are over. She will, he commands, announce her engagement to Sir Roland—immediately.
But in an age where marriages are about alliances rather than affection, practicality not passion, Myriah wants more—she wants to fall in love. And she does not love Sir Roland. So she runs away to her grandfather with her faithful manservant, Tabson, at her side.
A wrong turn in the fog, however, leads to the discovery of an injured young man, and before she knows it Myriah is caught up in world of intrigue and secrets. And when she meets the young man's older brother, the mysterious Lord Kit Wimborne, the sparks fly. Their first encounter—in his bed, both of them naked, no less!—is an explosion of wills, and it is what finally set Myriah on fire.
She has, it seems, finally found her thunder and lightning…
Another brilliant romance by Claudy. Everything she write blows me away... Just had to add that. And the cover isn't it just pretty?
Myriah is the female main character of this story. She, like other females in the time, puts up with the views of females in this time. Her fiery character was enough to pull me in and her loyal sidekick Tabson made quite a pair. We have Kit. The male character of the story with his dark, or not so dark secret. Together the characters create a drama worth reading. Kit doesn't quite trust her for most of the book and Myriah just tries to do what's right.
One of the things about reading historical books is the details used for description and placing things. Details like that are good for history nuts and freaks, like I. (Not a complete history buff.)
The story is a charming romance that makes you want everything to work out. The surprising ending will not be anything you see coming. Hints although are everywhere, both misleading and guiding. It was a excellent way to add a twist to the story.
What I'm saying basically is to go get a copy and check it out. If you've read Claudy Conn's other books then you'll love this one, and if you haven't... Go check it out and be pulled into her world of writing. (Brainwashing Complete.)
Where to find a copy;
https://www.smashwords.com/books/view/109011#longdescr