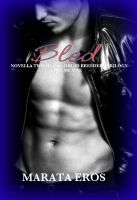 Title: Bled (The Druid Breeders Trilogy)
Author: Marata Eros
Page count: 50
Genre: Paranormal, Romance, vampire, instances of figuring out the bad guys.
My rating: 5/5
Publisher: -----
Published:
November 25th 2011
Summary:
When Rachel is taken by Zach of the rogue she is determined to resist him. But her unique Druid biology controls her and she slips perilously close to succumbing.
Cole searches for the one Druid that can make his life complete. While his comrade Nathan, in a heroic maneuver to help him, suffers at the hands of their sadistic ruler, Alexander.
While searching for Cole, Nathan discovers another Druid in the wrong place at the wrong time. Could she be the catalyst that brings two enemies together?
My Thoughts:
From what I got the one side not that bad while the other side cough cough Reapers can go die in a hole. They make me slightly irritated, or maybe a lotttt! Then we get the really creepy twin aspect that comes in and their you're left wondering about them. Simply amazing.
You fall in love with the story from the first page. The characters each have wills of their own ready to make you gasp in shock when they're hurt, or when they do something you never saw coming.
The Review:
Once again we are left with a cliffhanger that leaves your mouth gaping open going HOLY CRAP! These characters just don't have any luck. But anyway we meet Holly and Zach to characters that are easy enough to like. While meeting Zach we learn that bad guys group two are nice and better than group one. (Read my review for book one if you wish to know who the groups are.)
Marata Eros has a fun writing style to read. Her books are simply amazing.
WHere to find the book;
Goodreads;
LINK
Amazon;
LI NK
Smashwords;
L I N K