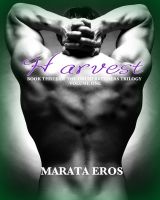 Title: Harvest (The Druid Breeders Trilogy, #3)
Author: Marata Eros
Page count: 47
Genre: Romance, kick butt vampires,
My rating: 5/5
Publisher: Smashwords
Published:
january
6th 2012
Summary:
Rachel and Holly escape from Alexander's clutches only to fall into the hands of his Reapers.
Can Cole and Zach save their chosen before they are claimed by another?
Will the Druid women fulfill their destiny to change the race of vampire forever?
The Review:
What a ending! It doesn't leave you wondering like the first two, no cliffhangers here, but a happy ending, or as happy as they could be. I never saw this ending coming, but it was amazing and well s-h-o-c-k-i-n-g! Now enough about the ending. Rachel and Holly just have no luck what so ever. Being led from one kidnapping to another you keep wondering when something good will happen to them. Then we have our knights with issues; far from innocent, far from understanding women.
So then we're introduced to Josiah, Elias, and Andrew. The saviors (?) and killer of the hated leader Alexander. In all chances the girls bad luck strikes again. On the bright side they're nicer than Alexander. Now you want to know what's so big about these people? Read the books and figure it out silly!
Then with this ending it leaves you wondering what the next book will be about. With no cliffhanger we get left wondering, and hoping. Will we be meeting new characters, or will they be the same ones. Hmmm the possibilities.
Smashwords:
http://www.smashwords.com/books/view/141895
Amazon;
http://www.amazon.com/gp/product/B006UHY4YU/
Goodreads:
http://www.goodreads.com/book/show/13416727-harvest