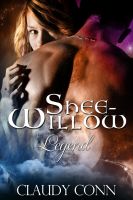 Title:
Shee Willow (Legend #2)
Author:
Claudy Conn
Page count or word count:
116038
Genre: Paranormal Romance
My rating: 4.5/5 Stars
Published: November 8th 2011.
Publisher: Claudy Conn
Summery:
half-human, half-Fae, Willow Lang has never felt she truly fit in either world, but she's doing her best to ignore her Fae nature and focus on her work as an art restorer at a museum in New York City. Then she accepts a job restoring classic paintings in Ireland and finds herself in the middle of a conflict between the Seelie Fae and the evil Dark Fae. In order to protect the Human world, she must embrace her Fae powers.
But that's not the only challenge Willow faces. Roland Omren, a handsome gypsy, is vying for her affection. The hunky Fae Breslyn, Prince of Dagda, is trying to seduce her. And then there's her mysterious boss, Shayne Bantry…
Shiny!
My Thoughts:
Something I've noticed read Claudy Conn's books are that they slowly get to the plot, but once you get far enough in they are WOW! *Grins* My favorite guy so far in this series finally figured out his problems. :)
Breslyn!
So
Shayne Bantry has lot's of problems. We just don't get to know them until close to the end. From rather or not he's evil or good, or just lost. We learn he is being a problem, not agreeing with the queen causing problems. Overall I liked him if you can't tell I wrote many lines. Willow is explained pretty easy and quick to understand. Her father is missing and she wants to find him at one point, she meets a mysterious winged fey, and has talking mask problems. Have I suck you in yet?
If you love fae books that have some romance in them, then this is a book for you to check out.
Would I read the next book? Yup! :)
Where to find her:
FB page
Facebook:
Link
Where to find the book:
Goodreads:
Link
Smashwords:Link
Amazon: Link